A new study in Britain has found that the number of women suffering from lung cancer, due to smoking, is extremely high. And surprisingly, it is exactly the opposite with men; since it was reported that the cases of the disease in men have indeed decreased.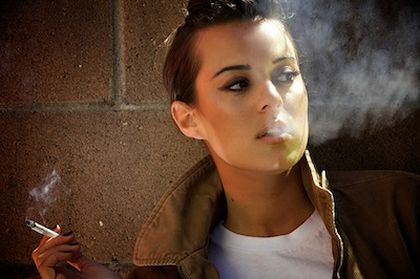 The statistics in the study which was published in the British Thoracic Society's (BTS), showed that the disease had increased by ten per cent between the years 1987 and 2006. The study over 19 years showed that the increase was from 32.3 per 100,000 to 35.4 per 100,000, whereas the rate of lung cancer in men was 70.4 per 100,000 in 2000 to 59.4 per 100,000 in 2007 in the United Kingdom.
Dr Paul Beckett said, "Lung cancer is one of the UK's biggest killers and we really need to focus on reducing rates across all groups in society. Clearly, targeting cigarette smoking is key to achieving this but it's also very important to catch the disease early."
The doctor advised, "I'd urge anyone who is worried about symptoms such as cough and breathlessness to visit their GP (general practitioner) and to consider getting a chest x-ray."
Extreme stress in the professional front and sometimes also on an emotional front, provokes an individual to take up smoking. Many people believe that smoking relieves stress but they do not understand one thing that it is also attracting many sorts of diseases.