UK Today News: Playboy playmate of the month for December 2009, Crystal Harris has got engaged to Playboy founder Hugh Hefner on December 24, 2010; and the news was enough to lead to a huge search in her Playboy photos online! Reports state that 84-year-old Hefner asked Harris to marry him over the Christmas weekend.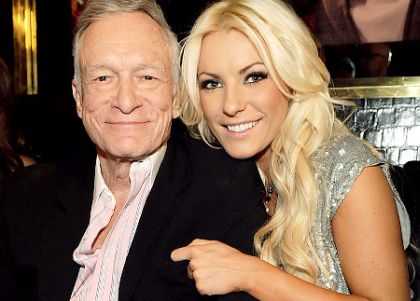 Photo Credit: Denise Truscello/WireImage
On his Twitter page, Hefner tweeted: "When I gave Crystal the ring, she burst into tears. This is the happiest Christmas weekend in memory…I got what I was hoping for for Christmas…Crystal's love."
Crystal Harris has been Hefner's number one girlfriend since 2009. The 24 year-old model has been with Playboy ever since she met Hefner in 2008 at a Halloween party. She has since appeared in E!'s The Girls Next Door and is launching her own music career.
Hefner's marriage to Harris will be his third. He was previously married to Mildred in 1949, and divorced in 1959. He later married Kimberley Conrad in 1989, and divorced 20 years later in 2010, even though they separated in 1998. Hefner has four children from his previous marriages.
Some Crystal Harris Playboy photos: