UK Today News: Despite several attempts to douse the fire, the south bound M1 highway in the UK still remains closed. A seven mile long section between one and four junctions, was shut down after fire broke out near a scarp yard.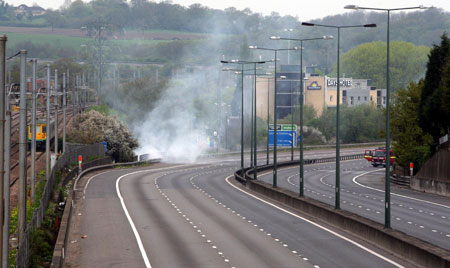 Repeated attempts have been made by the engineers over night to bring the situation under control. Earlier, two north bound lanes had been opened with a speed limit of 50mph. at the same time Roads minister Mike Penning had urged travelers to avoid the route, as far as possible.
Mike added that the highway will not reopen at least till the end of next week. The minister said that the bridge has been damaged by the fire badly and that they have to make sure that the road is safe for travel.
Nearly thousands of the travelers have been affected due to the road block. The road had even blocked football fans, who were on their way to Wembley stadium for the semifinals of the FA Cup. According to the Highway Agency, the engineers are still investigating the damage and are gearing up with urgent repairs before the highway could be opened for the vehicles. The fire broke out on Friday and more than 40 firefighters had doused the fire.