UK Today News: After pop star Justine Bieber and girlfriend Selena Gomez had left for Maui for a romantic vacation, seems like the couple couldn't get their hands off each other. The two stars were seen grabbing all the attention by showing off their love in public at the beaches of Maui on May 26, and didn't care much if there were shutterbugs around.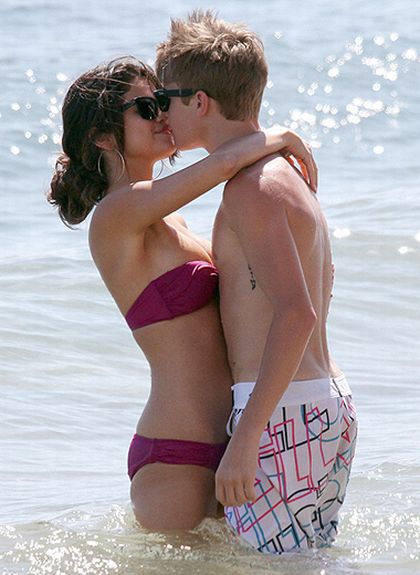 The 17-year-old singer and his stunning 18-year-old girlfriend Selena were seen playing tonsil tennis, not only at the beach, but also while they were riding the jet ski. At the beach, the Disney star was seen wearing a hot purple color bikini, while the 'Baby' singer was wearing just white beach shorts.
The two were constantly seen touching and caressing each other at the sunny beach. Justin had his hands constantly on Selena's rear portion, in a little provocative manner. Earlier, Justin and Selena did not speak much in public about their relationship, but it does not seem like that anymore.
Justin and Selena left for a vacation for Maui, after grabbing several awards at the Billboard Music Awards. Despite being on vacation, Bieber had tweeted just after he had a para-sailing adventure with Selena, saying that he is 1,200 feet in air, which is not the best feeling. Apart from their open vacation, the couple had even shared a smooch, after Bieber had accepted the award for the Best New Artist.
Looks like it's time the teenagers speak up about their relationship, or are they scared that they'll lose fans? In any case, the world already knows whats happening in Maui!