The Duchess of Cambridge, Kate Middleton has never disappointed her observers, during her public appearances. Once again Middleton stunned when she arrived at the Royal Albert Hall in London to mark the countdown to the much awaited Olympics.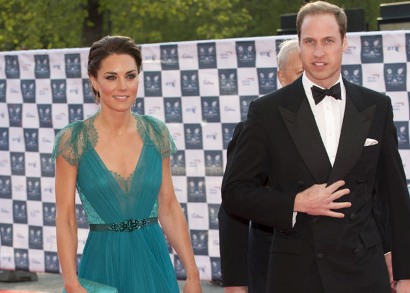 The Duchess, for a change appeared in a different look and carried a different hairstyle and also a different attire. Kate wore a turquoise blue gown by Jenny Packham, who is one of her favourite designers.
The Duchess accessorised her look with a matching clutch, diamond drop ear rings along with the same Jimmy Choo heels that she wore it to a private dinner earlier in the week. On the other hand Prince William was in one of his finest forms and referred himself as a 'mere mortal' when he took centre stage to address about 3,000 guests.
William said, 'Naturally, I was asked to compete for Team GB in every sport, but sadly Lord Coe said there were London pigeons with more athletic prowess than me'. The prince also added a serious note that these games remind us of the power of the human spirit and human endeavour. Last year, Prince Harry, William and Kate were formally announced as official Team GB and Paralympics GB 2012 Ambassadors.