The much awaited series of the singing reality show 'The X Factor' has started off in Liverpool. Guest judge Geri Halliwell made a grand entry at the auditions. The former spice girl star has joined the judging panel which has Louis Walsh, Gary Barlow and Tulisa at the red carpet event.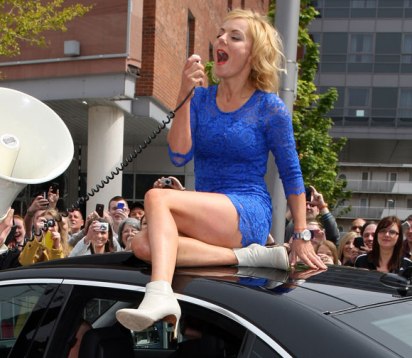 Geri was seen sitting on the top of the car to address the crowd with a mega phone. The singer was seen in a blue lace dress and later joined the rest of the judges on the press run.
The official Twitter feed of the show commented, "La Halliwell come over all Marilyn gives us all a master-class in how to make an entrance…" Reports say that the 39 year old singer has been brought as a replacement of Kelly Rowland.
Some of the reports which surfaced earlier this week suggested that the Liverpool auditions for Geri will be like her trial run for the job. Sources from the production unit said that Geri is not just a guest judge but is the judge in the waiting. The makers of the show want her to be on the job. The singer will be observed during her trial on the show.