Irish singer and song writer, who gave birth to a daughter, Aoife Belle Foden on March 13, 2012, posted the picture of her little bundle of joy. Una posted a cute picture of her ten week old daughter in a polka dot dress and a bow on her hair to match with.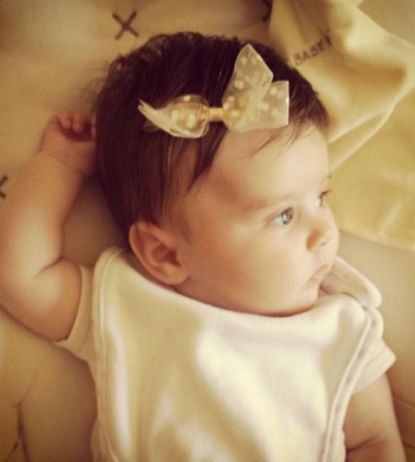 The singer left her daughter with her to-be mother-in-law before she left for her hen weekend. Una wrote, "grandma Foden is in for a treat she is soooo cute today!!"
Una will soon be getting hitched to her rugby player Ben Foden in a ceremony in Tipperary in the month of June. Looking at the picture of little Aoife it seems like she too is walking on her mother's footsteps and looks picture perfect.
With the first picture of Belle, Una added a caption, 'Little poser!! :)'. In another picture the little one is seen sitting back while she looks in to the camera to give a smile. The singer is preparing for her hen party and said that she felt guilty while leaving her daughter with her would be mother-in-law. Post delivery, the new mommy has managed to get back in shape and will have no problem to fit in her best wedding dress.