After a happy reunion of the Spice Girls to launch the musical Viva Forever, British singer Victoria Beckham and Melanie Chisholm made a quick exit from the event. The launch event was only left with Emma Burton, Geri Halliwell and Melanie Brown.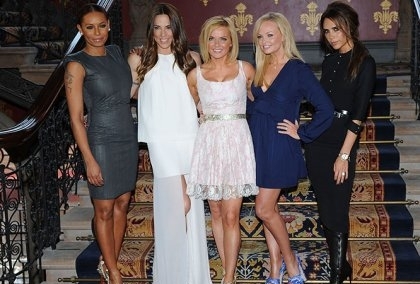 The Spice Girls came together on June 26, 2012 to launch their new West End Musical which is a story based on their hit songs. It was for the first time they stood side by side for years and came 16 years after they landed on pop scene.
The girls appeared in a complete different attire that they used to carry earlier and posed for pictures inside the St Pancras Hotel in London. The singers all seemed happy about the reunion but it was all short lived. Victoria at the event did not seem much interested and was the first one to leave and chose to be with her family over friends.
During the launch, the singer said, 'There's nowhere else I'd rather be today than here with the girls, and obviously my children.' After the lunch was over, even Mel C was seen leaving next. In order to make up, Posh Spice Tweeted about the event and thanked the girls for the great day.