Coleen Rooney, the wife of Manchester United footballer Wayne Rooney, on October 10, 2012, announced that she is expecting her second child. This has not stopped Coleen as she was seen proceeding for a photo shoot for Littlewoods' spring /summer 2013 collection.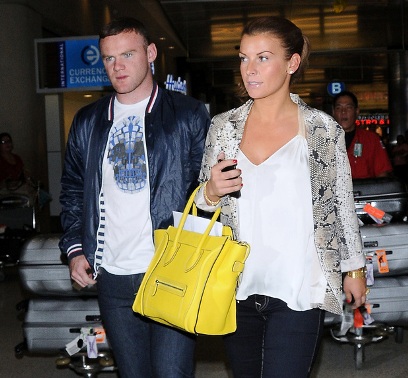 The Liverpool based brunette did not allow anyone to notice her baby bump, and covered it with a camouflage print studded jacket, along with grey loose fitting top and a pair of black leggings. Coleen had tied back her hair as she was looking forward to her shoot for the day.
Wayne and Coleen are already parents to their three year old son Kai. The 26 year old is on her first trimester and is expected to deliver in the month of May 2013. The star couple revealed on Twitter, that they expecting a sibling for their son. Coleen wrote, 'A few people guessed, so news is out ha!! Me, Wayne and Kai are thrilled that we are expecting a new addition to our family around May time x.'
In another post Wayne's better half revealed that it is still early days but his wife is really excited and wanted everyone to get the news from them rather than anyone else.