Malala Yousafzai, the Pakistani schoolgirl who was shot in the head by the Taliban on account of her protests for education for girls, has been taken to the New Queen Elizabeth Hospital in Birmingham for treatment. The hospital has a special trauma ward which was being used to treat British personnel that were injured in Afghanistan.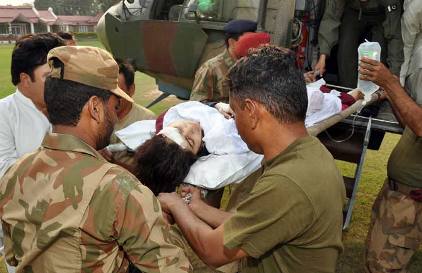 The schoolgirl was set to reach Birmingham via Abu Dhabi on October 15, 2012 where she would be transferred via ambulance to the trauma hospital. Specialists would be examining her case and would perform necessary surgery to repair or replace the bones in her skull.
The Pakistani military was taking care of Yousafzai till date, and took the opportunity to provide specialist child trauma care for her at the UK hospital after the UK extended their support for the cause. According to reports, a special air ambulance will be chartered from the United Arab Emirates to fly Malala to the UK.
Over the weekend, doctors at the military hospital in Rawalpindi where Malala was being treated said that she was making steady progress and had started moving her extremities, even though she was in a drug-induced coma; she also managed to breathe on her own for a short while, when her ventilator was removed.
Support for the brave schoolgirl continued across the world and specially in Pakistan, where countess demonstrations and vigils are being held in an effort to pray for her recovery and push the Taliban out of Pakistan's volatile border towns.