The use of Jack-o'-lanterns for Halloween is now an age old tale, which started off with the use of large turnips instead of pumpkins, which are used more commonly today. The practice of carving out a pumpkin lantern started when people started seeing strange lights flickering over peat bogs known as ignis fatuss commonly related to the story of will-o'-the-wisp, wherein a shrewd farmer known as Jack tricked the devil into climbing and apple tree and put crosses around it so that the devil couldn't get down.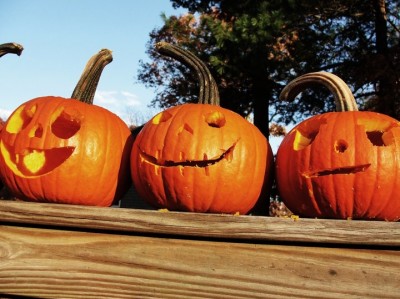 In order to carve out your meanest Jack-o'-lantern, here are five handy tips –
Use a jigsaw blade and plunge it into the pumpkin at a 45 degree angle. After this, move the blade in a circular motion to open up the pumpkin.
Use a handy power-tool known as the 'Pumpkin Gutter tool' to take out the insides of the pumpkin. Alternatively you could use your hands and scoop out the insides of the pumpkin; time consuming but effective!
Coring bits are an easy way to cut out your pumpkin eyes. Simply attach the bit to your drill and core out the eyes easily!
Make a bat instead of a face! Use a chisel to cut our wings and drill out holes for the eyes. Make a hole with screws attached so that you can hang your pumpkin bat up anywhere.
Carve away using tools such as Linoleum cutters, an orange plastic scoop, a little saw and other odd tools from around the house to make your carve extra unique. Don't forget to experiment and most of all. Have fun!