American rockers Bon Jovi have announced five dates for their upcoming tour of the UK. The best part about the tour is that tickets will cost just £12.50 for the band's cash strapped fans in the UK.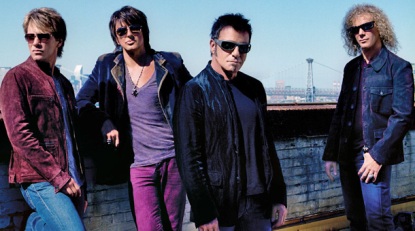 The band will begin their 'Because We Can' tour at Manchester's Etihad Stadium on June 8, 2013. They will also be playing at Birmingham's Villa Park on June 9, 2012, and Cardiff City Stadium on June 10, 2013. On June 13, 2013, they will be playing at Sunderland's Stadium of Light, and will conclude at Glasgow's Hampden Park on July 3, 2013.
The band announced that the tickets for the show will cost just £12.5o; this is to allow fans with limited budgets to access the shows as well. The boys will be seen performing tracks from their forthcoming album 'What About Now'. Rob Hallet, the tour promoter said that the band insisted on the prices of the tickets, to accommodate more fans.
In recent years, fans have had a tough time accessing live music shows, as ticket prices have slowly increased. Hallet added that rock-n-roll always was, and should be the music of the people, which means everyone. According to sources close to the band, the ticket prices were also set low taking the recent recession into consideration.