There is some really Good news for all Harry Potter fans as the The Harry Potter theme park called "The Wizarding World of Harry Potter" is all set to be this next spring thanks to Universal's Islands of Adventure Theme park initiative that is set to guarantee you great fun!
The plan for "The Wizarding World", a 20-acre park has been on ever since May 2007 and just recently the website for the Park was launched by Universal Studios.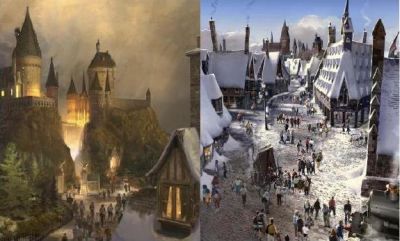 According to some reports, visitors to the park will have a chance to sip Butterbeer at The Three Broomsticks, buy Extendable Ears, eat "traditional British fare", and traverse the "Flight of the Hippogriff"– a "family coaster inspiring a Hippogriff training flight."
A major highlight of the Harry Potter Theme park is the collection of rides and attractions with the sole purpose of bringing the magic of Harry Potter movies back to life.
The theme park will be true to the visual landscapes of the Harry Potter films and is scheduled to open in the spring of 2010.