Popular UK-based electrical retail chain Comet Stores will begin to close as early as next week in what looks to be the final nail in its coffin. According to popular reports, the first of about 30 Comet stores are expected to close from the week starting November 20, 2012.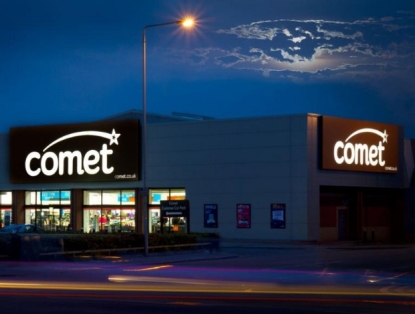 At this point it is not clear as to how many jobs will be lost. Roughly 6,600 jobs are at risk overall after Comet shuts down. Deloitte, who have been looking for a buyer for chain for the last two weeks, refused to comment on November 16, 2012.
The remaining Comet stores are expected to continue to trade over the Christmas period. The number of affected stores are roughly 30 in-all and will begin shutting down on Saturday. Comet was bought by private investment firm OpCapita for £2 from Kesa about a year ago.
A week ago, accounting firm Deloitte announced that it would be making 330 redundancies at Comet. The jobs were based in Rickmansworth, Hull and Clevedon. The company also said that no redundancies have been made at Comet stores or distribution centers and that stores will continue to trade normally. The administrators have been talking to people who are interested in acquiring some outlets of the chain, but has indicated that no buyer has been found for the chain as a whole.