People in the United States have been preparing for safe and very welcome Thanksgiving after being hit by the chaos and calamity of hurricane Sandy recently. This Thanksgiving will be all about bringing the family closer together with a nice holiday meal.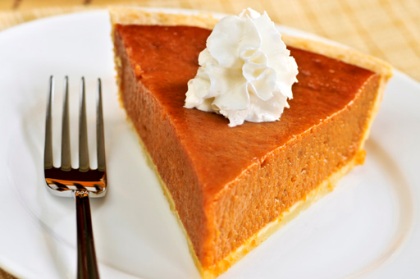 While New York and New Jersey residents struggle to restore electricity and heat and are busy with restoration work, here in the UK one can capture the Thanksgiving spirit with some wonderful dessert.
Here is the recipe of Blend-and-Bake Pumpkin Pie, which is an easy recipe for a healthy pie, the ingredients of which blend together and make a great dessert.
To begin with, here are the ingredients:
2 eggs
1 can (12 ounces) evaporated milk
1 can (15 ounces) solid pack pumpkin, NOT pumpkin pie filling
¾ cup sugar
½ cup baking mix, like Bisquick
2 Tbs melted butter
½ tsp cinnamon, ½ teaspoon allspice, ¼ teaspoon nutmeg
2 Tsp vanilla extract
Pre-heat the oven to 350 degrees. Combine all the ingredients in a blender to make a smooth batter. Pour the batter into a greased pie dish. Bake the pie at 350 degrees for about 50 to 55 minutes and serve hot with whipped cream.
During the baking process the ingredients will sort themselves out and the baking mixture will settle with the butter and create a lovely thin crust.