England spinner Monty Panesar made major breakthroughs in the Indian battling lineup on the first day of the 2nd Test match between the two countries on November 23, 2012. The match is being played in India's financial capital of Mumbai at the Wankhede Stadium.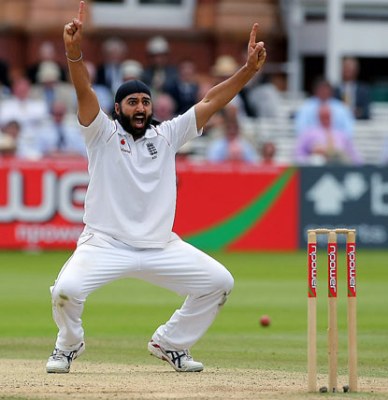 Panesar clean bowled both Virender Sehwag and Sachin Tendulkar in successive overs to lift the spirits of his side. Sehwag is playing in his 100th Test match and Tendulkar is considered by many to be in the twilight of his career.
Panesar has now taken Tendulkar's wicket for the 3rd time in 9 meetings and got the 'Little Master' with a brilliant delivery this morning as well. Tendulkar looked to defend the ball, which was pitched on leg stump, however the delivery went past the outside edge and smashed into the off stump.
Sehwag's delivery was not all that special though, as the Indian batsman looked to flick the ball off his pads and missed. The ball then ricochets off his pads and hit the stumps. Gautam Gambhir, the other Indian opening batsman fell to so good swing from James Anderson early on in the day.
Indian captain Mahendra Singh Dhoni won the toss and chose to bat first. England are looking to draw the series after a poor showing in the 1st Test match that was held in Ahmadabad.