Here is some exciting news for ardent fans of the super-spy 007 (James Bond). Bond fanatics can now experience a rail route in spy-style on the brand new Skyfall train. The service is East Coast operated and was launched at King's Cross Station by Naomie Harris.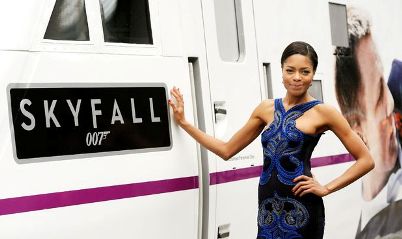 Harris looked more dazzling than the train on display at the launch ceremony. 'Miss Moneypenny' was seen wearing a blue dress, which matched the color of the passenger seats in the train's interiors. Naomi leaned against the shiny carriage, next to a huge life-sized image of Daniel Craig, who plays the role of the British Spy.
The 'Pirates of the Caribbean ' actress said that she was very proud to represent women of color in the legendary role. However, passengers will not have Naomi as a permanent feature. On the train journey, patrons will be taken on the traditional Flying Scotsman route between Waverly and London's King's Cross. The Journey will mimic the one traveled by James Bond in the final scenes of Skyfall. In the movie, the route was taken by Bond and M, as they traveled to his childhood home in Scotland.
All the 11 carriages on the train have been wrapped in Skyfall imagery, which is led by a cast consisting of Daniel Craig, Naomi, Judi Dench, Javier Bardem and Berenice Marlohe. For the occasion a platform at King's Cross was renamed as 007.