Justin Timberlake, for many years, had concentrated on his movie career. Now the singer is fusing his love for movies and singing by recording a film soundtrack.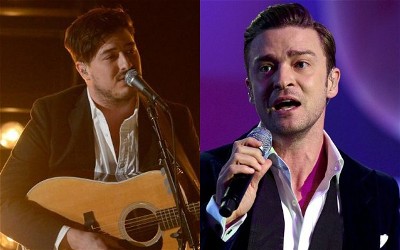 The 'Cry Me A River' singer will be making a departure from his usual sound and this time he will be joining hands with Marcus Mumford on the new track. The Mumford and Sons singer will take the lead and Justin will team up with him to record the new track for the latest Coen Brothers movie –  Inside Llewyn Davis.
The 'Sexyback' singer, while talking to Capital FM said, 'There's a Coen Brothers film coming out soon that I was lucky enough to work with … Carey (on)." Justin added that coincidentally he worked with Marcus Mumford on the soundtrack, due to which he became good friends with him.
Timberlake also revealed that Marcus and himself worked in the track together and did not know any other situation where they would have an opportunity to collaborate with each other. Justin added that it will not only be a great movie, but will also have great music. The collaboration news has come up after a successful Academy Awards ceremony for both the musicians. Since the ceremony, the 'Suit and Tie' singer has been busy with a promotional trail across Europe.