A 60-year-old man who is Serbian by birth has shot and killed 13 people before attempting suicide. The incident took place in the early hours on April 9, 2013, in a village near Belgrade, Serbia.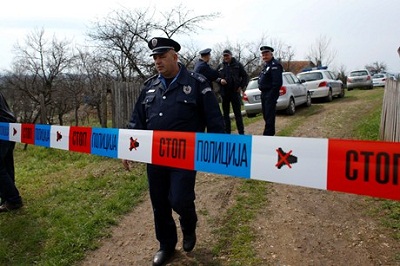 The killer was identified as Ljubisa Bogdanovic. Bogdanovic used a handgun to kill the victims. There were six men, six women and a child killed during the shootout. The exact motive behind this rampaging shootout is yet unknown to the police. The news that's being conveyed from the Serbian police director is that Bogdanovic had lost his job last year and this could have caused him to go into depression. He is also a veteran of the Balkan wars in the 1990's.
The incident took place between 5 am and 5:30 am, when most of the people were sleeping. Bogdanovic first shot his son in the head and then went from door to door, to all of his neighbors, killing them all in the exact same manner.
The gunman also shot his wife who was later found to be alive and in critical condition. He later turned the gun on himself, however he did not die from the self inflicted gunshot and is struggling for life as well. The incident affected 5 homes in all. Bogdanovic was a non-violent person according to sources and possessed a license for the gun that was under his control.