The 2010 Vancouver Olympics had the most a stunning visual ceremony and had a number of stars too performing at it.
Canadian singers Bryan Adams and Nelly Furtado opened the Olympic ceremony with a heartfelt tribute to all the athletes after which the ceremony showed Canada's natural beauty on more than 100 screens.
The duet sung by Bryan Adams and Nelly Furtado was titled Bang the drum, and although it was a great song, there were reported storied of it being lip-synced!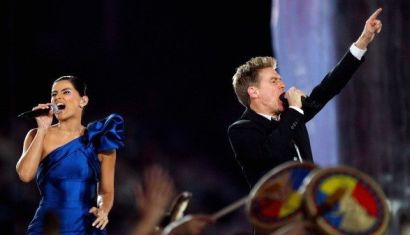 The Olympic ceremony also featured singer Sarah McLachlan who was accompanied by members of the Alberta Ballet who danced among holographic images of nature.
The ceremony also saw some footage of the 25th anniversary "We Are the World" remake which is set to be released across the world this Saturday. It featured Barbra Streisand, Miley Cyrus, Fergie, Jennifer Hudson, Nicole Scherzinger, Sugarland's Jennifer Nettles, Céline Dion, Josh Groban, LL Cool J, Nick Jonas, Lil Wayne, Jeff Bridges, Kanye West and Vince Vaughn. Michael Jackson's footage from the original version was also there.
The Winter Olympics began on a sad note when a luge competitor Nodar Kumaritashvili died after a crashing during training.