Gesture based computer peripheral, the Leap Motion Controller has been launched in the UK market. The Leap Motion Controller is a device which brings 3D motion controls to any Personal computer with USB port. Earlier the device was listed as pre-order and Amazon has sent the Leap Motion Ordering Live with the 3in-long control costing £69.99.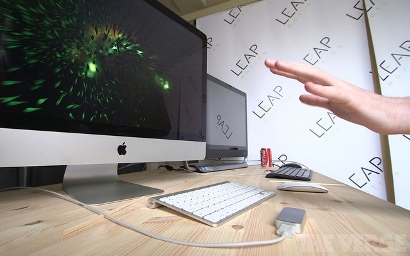 People who had order the device earlier can get the gadget from today on July 29, 2013 and the subsequent orders which have been placed will be delivered in with the Amazon's usual range of shipping options which include a next day choice.
The company has said that the diminutive controller is accurate up to 1/100th of a millimetre which enables touch free control of the computer within an interactive space of up to eight cubic feet. Michael Buckwald, the CEO of Leap Motion said, "Leap Motion enhances the computing experience to allow people to do things in new and better ways, and we're committed to breaking down the barriers between people and technology to make the future more easily accessible".
Moreover, to make the device more accessible, the company has opened its Airspace app store which launched with more 75 paid and free apps built by developers across 20 countries.