The Miss World 2013 contest has been announced and is all set to take place on September 28, 2013. This will be the 63rd edition of the popular pageant, which will take place at the Sentul International Convention Center in Sentul and Nusa Dua, Indonesia.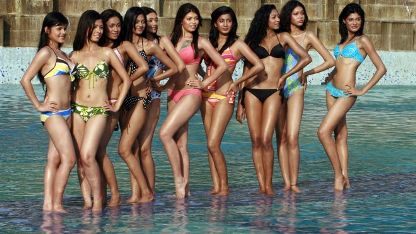 This year, Yu Wenxia from China will be crowning her successor while concluding the highly-anticipated event. So far, 124 delegates have confirmed their participation in the contest, including Maria Castelo from Angola, Ena Kadic from Austria, Regina Ramjit from Barbados, De'Andra Bannister from Bahamas, Sancler Frantz from Brazil, Camille Munro from Canada, Camila Andrade from Chile, Yu Weiwei from China, Daniela Ocoro from Colombia and many other contestants from countries like Denmark, Costa Rica, Dominica, Ethiopia, Guinea, Guam, Guyana and more.
The upcoming contest will also feature several countries that are making a comeback to the competition, such as Haiti, Tunisia, Dominica, British Virgin Islands, Switzerland, Chinese Taipei, Luxembourg, Zambia, Lesotho and Ghana.
The 2013 contest will also include some participants who faced replacements. Miss Hong Kong, Carat Cheung, was replaced by her first runner-up Jacqueline Wong due to being overage. This will be the first time that Indonesia will be hosting the Miss World pageant, as well as the first time that the contest will be held in Southeast Asia.
Photo Credits: Lipstiq