Rumors have been circulating for a while that the online retail giant Amazon is getting ready to refresh its tablet range in the upcoming months and a new image of the yet to be released Kindle Fire has been leaked online, adding weight to the previous suggestions. The newly-released image – tweeted by @evleaks – shows what seems to be a new version of Amazon's Kindle Fire, which is expected to be launched by the end of 2013.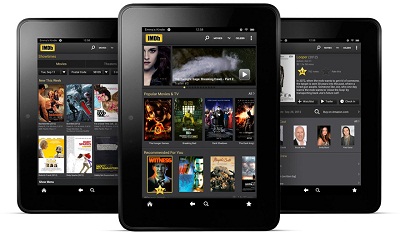 The latest device does not seem to feature a front-facing camera, which might mean that it could be a new budget model and would most likely come without the HD display that the company is preparing for its upcoming top-of-the-range Kindle Fire. Amazon has also lowered the price of the current Kindle Fire by £30, which means that customers can get it for just £99, instead of £129.
The Amazon's next-gen Kindle Fire HD will reportedly be available in two versions, the 7-inch and the 8.9-inch. The Kindle Fire HD 7-inch will run on Android 4.2.2 Jelly Bean operating system and will feature 2GB of RAM, high-resolution 1920 x 1200 display with Snapdragon 800 processor, Wi-Fi, front-facing camera and mobile connectivity.
The 8.9-inch version will have a 2560 x 1600 display and will be at the same level of sharpness as the Google Nexus 10. Amazon's Kindle Fire HD was launched in 2012 and managed to surpass the successful original version.
Photo Credits: IMDB