South Korean manufacturing giant Samsung has become the first smartphone manufacturer to reveal a flexible smartphone. The company stated on October 8, 2013, that its Galaxy Round includes the newest in flexible screen technology, in addition to other exclusive features.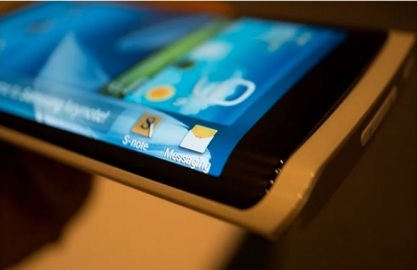 The latest device looks similar to the Galaxy S3 and S4, but has a small dip in the middle of it, which in turn makes the phone curve along a vertical axis. The body of the phone is stiff, so it does not really bend or flex, but features a stationary curve which reportedly matches contours of a person's face.
The company also said that the curvature which the new phone features enables users to control their applications, music and photos even easier than before. Samsung in a statement said, "As a result of its unique curved design, users can take advantage of round integration experiences like the Roll Effect that enables user to check information such as date, time, missed call and battery easily when home screen is off, and the Gravity Effect for creating visual interaction with the screen by tilting the device".
The release of the latest device comes as Samsung is facing a slowdown in the core smartphone market. This also means that the company has to find new ways to attract potential buyers and get them to purchase upcoming devices.
Photo Credits: Laptop Mag