U.S. Olympic short track speed skater J.R. Celski, was disqualified today at the 2010 Winter Olympic Games being held in Vancouver, Canada but it was something else that made him well known today.
That something was his enormous tattoo on his chest.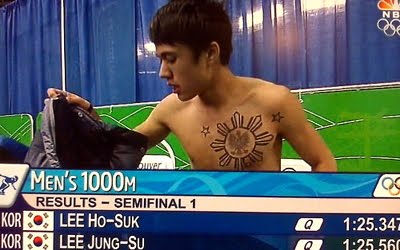 The 19 year old J.R. Celski is a resident of Salt Lake City and he is from the Philippines by descent.
J.R. Celski's tattoo is a "three stars and a sun" Philippine flag as shown on TV when the athlete removed his t-shirt. This is symbolic of his Filipino-American ancestry and created quite a buzz across the globe.
According to some reports, Celski suffered an injury at the U.S. Olympic Trials from his own skate!
However, we must not forget that J.R. Celski did win the 1500m Short-Track Bronze Medal in Vancouver.