Doping controversy mars 
Nigeria's Chika Amalaha's sporting career.
Nigeria's Chika Amalaha who became the youngest female weightlifter in the history of the Commonwealth Games to bag gold, is now facing provisional suspension from the Glasgow games after having failed the doping test.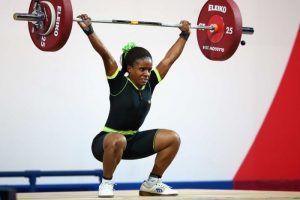 The 20th Commonwealth Games saw – which are being held in Glasgow – Amalaha win the 53-kilogram (117-pound) division on Friday July 25, 2014.
However, the young athlete's hopes were crushed after she tested positive for diuretics and masking agents.  The 16-year-old's "A" sample was found containing  amiloride and hydrochlorothiazide which are banned substances by the World Anti-Doping Agency (WADA).
Chika has now demanded for the "B" sample to be tested. If this sample too comes testing positive for banned substances, then the young athlete will face losing her gold.
The WADA President Craig Reedie told The Associated Press, "I am rather saddened and disappointed this has happened to a 16-year-old."
The test is a part of the Commonwealth association's stringent anti-doping program, "It shows we have a very robust anti-doping program in place," said executive Mike Hooper. 
The young Amalaha set a whopping record in the weight category by breaking the previous mark of 188 kilograms (414 pounds), she managed a total of 196 kilograms (432 pounds). 
This is not the first time that Nigeria has been embroiled in a doping controversy, the Nigerian weightlifting team did not compete at the 2002 Commonwealth Games held in Manchester owing to a doping ban that was slammed on all four members in 2001.
Photo Credits: Abc Net