Kylie Minogue performs at Commonwealth Games 2014 closing ceremony
470 Views
August 4th, 2014
Posted by Aashruti Kak
Comments Off
Glasgow set on fire as Kylie Minogue performs at Commonwealth Games 2014
As the fiery Commonwealth Games 2014 held in Glasgow's Hampden Park came to an end, the closing ceremony witnessed the Australian singer-songwriter and actress, Kylie Minogue, set the stage ablaze with a seven of her best tunes.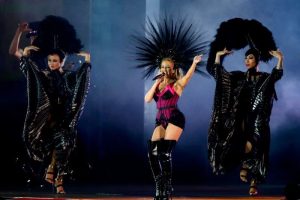 The pop diva put on a great show with hits such as Spinning Around, Into The Blue, Love At First Sight, Beautiful, All The Lovers and Locomotion, specifically sending the crowds into the party mode with her all time smash hit Can't Get You Out Of My Head.
Joining her in the celebrations were Glasgow-born talent Lulu and Scottish singer-songwriter Dougie MacLean who went on tirelessly to floor the ecstatic crowd of 40,000 that sang along every bit of the traditional tunes of Auld Lang Syne and swayed to Scotland's very own Deacon Blue.
Athletes, volunteers, spectators and organizers are all deeming it to be the best Commonwealth Games of all times, putting a feather in Scotland's cap as this event will be forever etched in the minds of all those who were there.
Photo Credits: ABC Net
Aashruti Kak has a PGD in Journalism and has been wielding the pen/keyboard for over seven years. Her favourite things to do throughout would be gorging on any food she can get her hands on and astral walking around the world at any time of the day. A self-proclaimed pyromaniac, she can be passionately destructive, unpredictable and heart-breaking, just like a puppy.