The current UEFA League Champions Real Madrid beat Sevilla 2-0 as they claimed their first European silverware of the season.
It was a scene of celebration for Real Madrid fans on Tuesday, August 12, 2014 as the UEFA champions beat fellow Spanish club 2-0 in the Super Cup. Cristiano Ronaldo scored both the goals for Madrid. The match was played at Cardiff, which is a neutral venue along with being the birthplace of Madrid star Gareth Bale.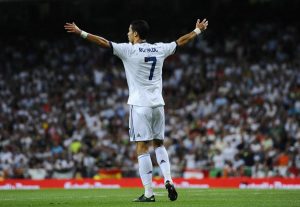 Real Madrid have started their European season on a high as they met their first objective – winning the Super Cup. 30,854 people came to watch the game, which is a Super Cup record. This was also the first time that ex-Chelsea boss, Carlo Ancelotti, took charge of the most expensive squad in football which is valued at $526 million.
The World Cup sensation James Rodriguez and Bayern star Toni Kroos were seen in action for the first time since being bought in this transfer season. With a formidable attack that consisted of James Rodriguez, Karim Benzema, Cristiano Ronaldo and Gareth Bale, Sevilla were always going to have an uphill task.
The Super Cup is an annual match that is organized by UEFA and is played between the winner of the UEFA Champions League and UEFA Europa League. AC Milan has been the most successful team in the Cup's history with 5 wins under their belt. This win is Real's 2nd Super Cup title.