Liverpool without Suarez: The club started their season on a high with a victory over Southampton.
Soon after the transfer of Liverpool's star striker, Luis Suarez, to Barcelona in a £75 million deal, there were concerns about how Liverpool will fare this season. The striker scored 31 goals in 33 Premier League appearances and was the spearhead of Liverpool's attack. The club, however, challenged the odds and beat Southampton 2-1 at Anfield.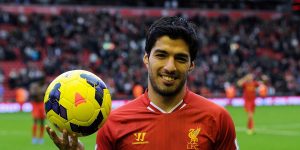 The first game of Liverpool's season was against Southampton at home and two goals from Daniel Sturridge and Raheem Sterling got the hosts to a great Premier League start. A 79th minute winner from Daniel Sturridge sealed a hard fought match for Liverpool.
On being asked if Liverpool were a better team following Suarez's exit, Daniel Sturridge said, "I think so, with the players we've brought in… No disrespect – he's a great player and will be missed – but we move on."
The club's manager, Brendan Rodgers, revealed later that Luis Suarez sent him a text on the morning of the game wishing him and the team good luck. He added "His heart will always be with Liverpool."
27 year-old Suarez has been in the eye of the storm since he was accused of biting Italian defender Giorgio Chiellini in a World Cup game. He has been banned by FIFA for 4 months, but after an appeal to The Court of Arbitration for Sport (CAS), he has been allowed to train with his new team-mates in Barcelona and also play in friendlies.