Tony Kornheiser is reported suspended by ESPN for his comments made on ESPN anchor Hannah Storm. Network spokesman from ESPN announced his suspension.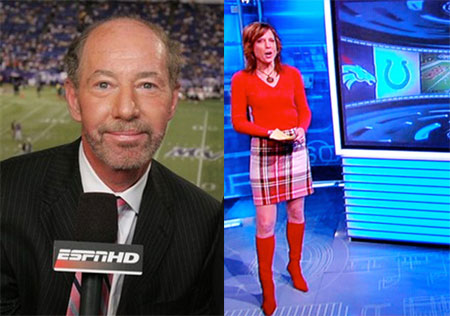 See above -Tony Kornheiser and Hannah Storm
On his weekday local radio show on ESPN Radio's Washington, D.C. affiliate, he spoke about ESPN anchor Hannah Storm and said a lot of unexpected things that has landed him in a lot of trouble.
He commented on her outfit saying it was "horrifying" and he also said that her "very, very tight shirt" looked like "sausage casing" and that her "Catholic school plaid skirt" was "way too short for somebody" her age.
Tony Kornheiser later apologized to Hannah Storm and made his apology on-air.
Tony Kornheiser currently is a co-host for Pardon the Interruption talk show and he was also a Monday Night Football game analyst before.