36 year-old Didier Drogba struggles in his Chelsea homecoming game against Schalke in the Champions league.
In his opening homecoming game for Chelsea, 36-year-old Didier Drogba struggled to find any form in their Champions league game against Schalke. The match ended in a 1-1 draw. The match was played in Chelsea's home Stamford Bridge on September 17, 2014. Drogba was the man who was responsible for Chelsea's win in the final against Bayern Munich in the 2012 Champions League.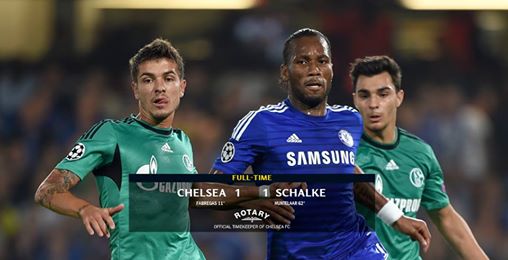 Playing his first game for Chelsea after the Champions League victory in 2012, Didier Drogba struggled against his German opponents, who cancelled Fabregas' opening goal to make it a 1-1 draw. The crowd at Stamford Bridge were on their feet as their 'hero' started the game ahead of Diego Costa.
Jose Mourinho, Chelsea manager re-signed the Ivorian 2 years after he moved away from the club to Galatasaray. The crowds were cheering on forward, hoping he would add to the 34 goals he has scored playing for the Blues. Drogba tried his best to capture some of his past glory, but was often seen gasping for breath, reminding everyone that he is 36.
No Chelsea fan can forget the 2012 Champions League final where Drogba scored an 88th minute equaliser against Bayern Munich, only to end up also scoring the winning penalty.
However, Mourinho defended Drogba at the end of the match where he said, "He had a positive game. I'm not disappointed with the striker because of one inch, he scores a goal or doesn't score a goal. I am happy with what he did. If he scores that goal in this moment we're speaking about 2-0, not 1-1. We had very good chances to score the 2-0 and we didn't."
Eventually, Mourinho had to swap Drogba with Diego Costa in the 63rd minute. Although one game does not tell the whole story, soccer enthusiasts will be waiting to see where Jose plays Drogba in the next matches.