QPR centre back, Steven Caulker arrested after being accused of stealing Philadelphia cheese.
In what makes for a bizarre story, QPR's centre back, Steven Caulker was arrested on Tuesday, September 23, 2014 after being wrongly accused of stealing a tub of Philadelphia cheese. The incident occurred in the Weybridge branch of UK's biggest retailer, Tesco. The 22-year-old defender was handcuffed by the police after the store staff made the shoplifting allegation against the football star. However, after spending 5 minutes with the cops, Steven was freed.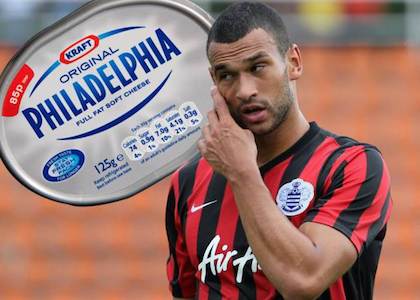 The drama started on Tuesday night when Steven Caulker walked out of the Surrey Tesco store and without realizing, he carried the £1.85 tub of soft Philadelphia cheese with him. It was when he was returning to the store, probably after having realised his mistake, when the police caught and handcuffed him.
An eye witness recalls the situation, "He had left the Tesco Express then turned around and gone back in. That was when the police arrived, jumping from their squad car and handcuffing him. He looked pretty alarmed."
A full fledged conversation about Philadelphia cheese then ensued, following which the police let go off the defender. A couple of bystanders recognised the footballer and found the whole situation quite amusing.
In a statement, Tesco said, "Police were called after an allegation of shoplifting last Tuesday. The matter was resolved at the store and our store colleagues decided not to press charges."