England goalkeeper Joe Hart to return for Man City against Roma in Champions League home game.
Manchester City manager, Manuel Pellegrini's first choice goalkeeper Joe Hart will return to the starting XI in City's Champions League home game against Roma. Hart was sitting on the bench in Manchester City's 4-2 victory over Hull City in the Premiere League. In the match, Joe was replaced by Argentinian Willy Caballero, who put up a solid performance.
However, when Pellegrini was asked about whether Joe Hart would play the do-or-die match against Roma, he said, "Yes, he's in a very good moment also."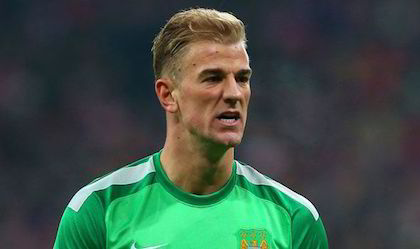 Willy Caballero was signed this summer from Malaga FC for £6m. While he did nothing wrong in the 2 games he played, Pellegrini has made his priorities clear. He has recalled Joe Hart for the Tuesday encounter against Roma, which he describes as absolutely "crucial".
This is a do-or-die game for Manchester who are in the Group E of the Champions league, along with current champions Bayern Munich. The team lost their opening game against Bayern 1-0, which makes a win even more important.
Talking about Tuesday's fixture, Pellegrini said, "It will be a very tough group and we cannot drop points here at home. It's very important for us to win that game."
Meanwhile, on-loan Frank Lampard is doing very well for City. He has scored 4 times in 3 matches, ever since he moved to the club on loan from New York FC.