A massive earthquake measuring 8.8 magnitude which struck off the coast of Chile in the early hours of the morning, was one of the biggest earthquakes that ever occurred anywhere in over a century.
Chile has a history of devastating earthquakes. As per the data from US Geological Survey, it is suggested that this Chile earthquake is in the 5th place with an 8.8.quake that hit Ecuador and Bolivia in 1906. Out of the 5 quakes, only 4 have been massive since 1900. The largest was a 9.5 magnitude event that struck Chile in 1960 claiming 1655 lives and leaving 2 million homeless and it triggered a tsunami that took lives of people living in Hawaii, Japan and the Philippines.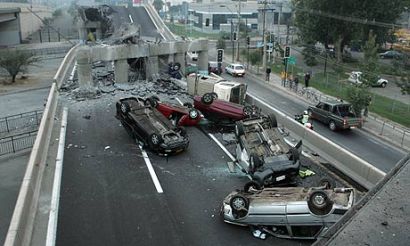 The US government tsunami warning center in Hawaii warned that "a tsunami is likely to hit the state that could cause damage along coastlines of all islands in the state of Hawaii.
CNN has stated that this earthquake is 'more powerful than a nuclear weapon'.
According to current news reports, 147 people have died in schools and public houses were all damaged. Even old churches turned into rumbles and the airport has been so badly damaged that it has been closed. This will make relief efforts a little more challenging.
The magnitude of the earthquake is so bad that there were 3 meter tall tidal waves that hit the Robinson Crusoe Islands, and there are also fears that there will be a tsunami in Hawaii.