The famous Osmond Family was struck by tragedy yesterday in New York city. Marie Osmond's son Michael Blosil jumped himself to death on late Friday night from an apartment building in Los Angeles. The death of Marie Osmond's son Michael Blosil is indeed a very big shock to the Osmond Family.
Michael Blosil was an adopted son of Marie Osmond. It has been reported that he was also in rehab in the year 2007 for an unspecified ailment. He has also been suffering from depression in the past.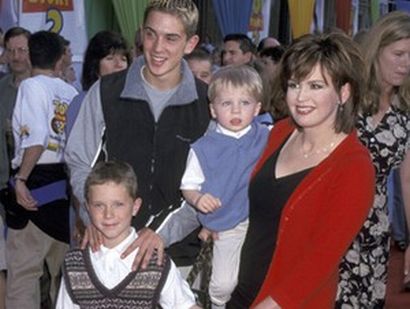 In this file picture: Michael Blosil stands in the front
Marie Osmond married music producer Brian Blosil and has seven children out of which 5 are adopted.
The suicide of Michael Blosil as reported by Los Angeles Police Department is not clear on why he would take such a drastic step, his body was found on the ground below the apartment balcony. The Los Angeles Police Department has confirmed the suicide.
The Osmond Family is originally from the state of Utah and the follow the Mormon Faith.
In the past it has been reported that Marie Osmond attempted suicide in the year 2006, but her publicist said it was a medical reaction.
In early 2009 Marie Osmond was in the news for plastic surgery done, as her appearance looked different.