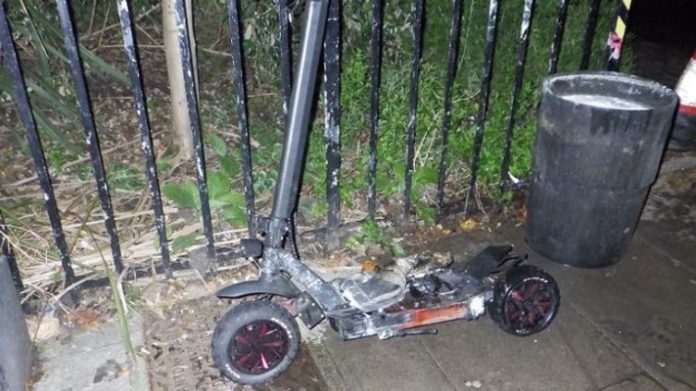 E-Scooters that were once considered as environmental friendly, have now been banned from all the public transport in London from December 13, 2021. The recent decision has been taken over fire safety concerns, after an incident where an e-scooter had caught fire on a Tube train. The ban applies on all kinds of e-unicycles and e-scooters but it does not include the mobility scooters or foldable e-bikes which continue to remain permitted.
The e-scooters have been banned on the services that include Overground, Tube, buses, TfL Rail, DLR and Trams. The Transport for London said that the review of the fire incident mentioned that the scooters caught fire due to the defective lithium-ion batteries that took off without warning. It caused fire with a release of toxic smoke. TfL added that the decision as also taken as fire in such enclosed spaces like a Tube train or a bus could harm the customers as well as the staff and could have also caused secondary injuries from the customers who try to escape.
The incident was confirmed by the London Fire Brigade that mentioned that an e-scooter had caught fire on a train at Parsons Green underground station in November, 2021. No serious injuries have been reported but one of the passengers suffered from smoke inhalation. The brigade expressed that their concern is with the faulty third-party batteries as a number of fire incidences in recent times involve batteries that have been sourced on the internet and do not meet the correct safety standards.
Paul Jennings, the assistant commissioner of the brigade said that the concerns regarding the safety of the e-scooters are growing due to which they completely support the ban of the private scooters on public transport. Jennings added that fires are dangerous when they happen but when they happen on the transport network it has a potential to become very serious and can involve hundreds of people.
Photo Credits: Sky news