UK Today News: Barbara Bush Hospitalized: Former First Lady Taken To Hospital After Feeling Unwell
Barbara Bush has been hospitalized in Houston, Texas, a family spokeswoman said.
The reason of Barbara Bush being taken to the hospital is just to undergo routine regular checks. Doctor's do not suspect anything serious, but just a regular check up.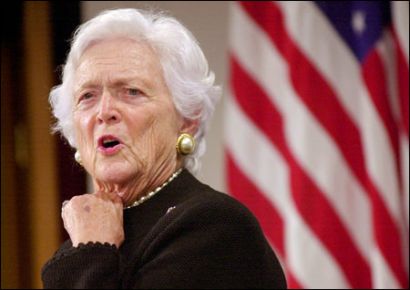 Barbara Bush is the wife of former US president George H.W. Bush and the mother of Barack Obama's predecessor George Bush. She was accompanied to the hospital by her husband as well. Barbara was complaining of not feeling well before being admitted to the hospital.
Barbara Bush also went through a open-heart surgery last year in the month of March.
Just a few weeks ago, former US President Bill Clinton was admitted to hospital after complaining of heart pain.