UK Today News: NCAA Championship Game 2010 Time: Butler Vs Duke To Play Today
The 2010 NCAA Men's Championship Game time today April 5, 2010 is at 9:21 PM at EST in Indianapolis. The game will see, Duke battle it out with Butler.
The NCAA Championship Game 2010 be broad casted live by CBS.
Reports say that the NCAA Championship Game 2010 will take place at Oil Lucas Stadium in Indianapolis, Indiana.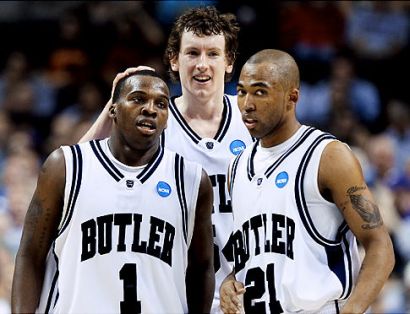 Sources say that the odds for Duke is a seven point favorite, not forgetting the fact that Duke had a 34-5 record while entering the NCAA Tournament while Butler, on the other hand had a 33-4 record.
You want to know the players, then we got the information right here.
Duke 2010 Rosters:
2 Nolan Smith
3 Seth Curry
5 Mason Plumlee
12 Kyle Singler
20 Andre Dawkins
21 Miles Plumlee
30 Jon Scheyer
34 Ryan Kelly
41 Jordan Davidson
42 Lance Thomas
51 Steve Johnson
52 Todd Zafirovski
53 Casey Peters
55 Brian Zoubek
Butler 2010 Rosters:
1 Shelvin Mack
2 Shawn Vanzant
3 Zach Hahn
5 Ronald Nored
11 Alex Anglin
14 Nick Rodgers
20 Gordon Hayward
21 Willie Veasley
22 Grant Leiendecker
24 Avery Jukes
30 Emerson Kampen
32 Garrett Butcher
33 Chase Stigall
44 Andrew Smith
54 Matt Howard