UK Today News: Earthquake In Mexico April 4 2010: San Diego Earthquake, Mexicali Earthquake Of 7.2 Magnitude Hits California
An earthquake of magnitude 7.2 hit an area in Mexicali and places like San Diego and Los Angeles felt the affects of the earthquake today.
Reports say that the affects of the Mexico quake reached as far north as Santa Barbara and went on to Yuma and Phoenix, Arizona.
About 9 minutes after the Mexico quake, another quake measuring 4.1 magnitudes hit the north of San Francisco in Santa Rose, California.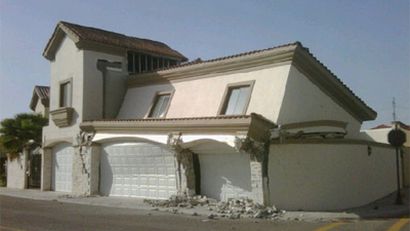 The San Diego earthquake is being called the Mexicali earthquake and Baja earthquake and is known to have lasted for around 40 seconds. It took place at 3:40 pm PST . Reports also say that earthquakes continued to take place till 9:00pm PST – mainly in the range of 3.0 – 4.0 magnitude.
According to one source :  "The epicenter was just outside of Baja California, Mexico, or about 22 miles from Calexico. "
The San Diego quake is considered to be one of the worst quakes to hit California's San Diego and Los Angeles at a magnitude of 7.2.
New reports have come in that atleast 2 people died in the Mexico quake and that a part of San Diego airport was forced to shut down.
Check back here for more updates on the San Diego earthquake.