UK Today News: Oklahoma City Bombing – Timothy McVeigh Documentary To Be Aired on April 19 2010
Oklahoma City in the United States of America, will be observing today the 15th anniversary of the Oklahoma City bombing which took place on April 19, 1995. This day remembers the bombing of a federal government building in one of the country's deadliest terror attack.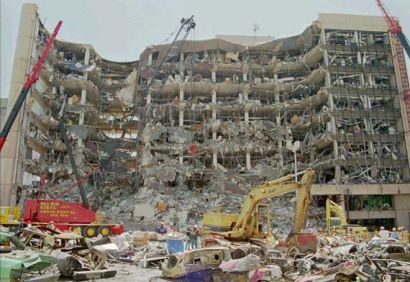 The survivors, friends and relatives of victims of the Oklahoma city bombing will be attending a ceremony at the site of the bombing where 15 years ago, 168 people died and hundreds of people were injured.
Reports say that the U.S. Homeland Security chief Janet Napolitano is expected to talk at the 15 anniversary event.
The Oklahoma city bombing was masterminded by Timothy McVeigh, when he detonated an explosive-filled truck that he intentionally parked in front of the Federal Building on April 19, 1995.
A documentary about Timothy McVeigh, which includes audio of the terrorist, will air on msnbc to mark the 15th anniversary of the Oklahoma City bombing.
Bill Clinton, was president in1995 when the Oklahoma bombing took place.