UK Today News: Bangkok Grenade Blasts Kills 3, 75 Injured – Thailand's Protests Make Riot Police Retreat
Grenade blasts rocked the people of Thailand's capital Bangkok today. Some of the grenades landed on the roof of a railway station and one in front of a 5 star hotel causing chaos and destruction which resulted in 3 people getting killed and 75 injured.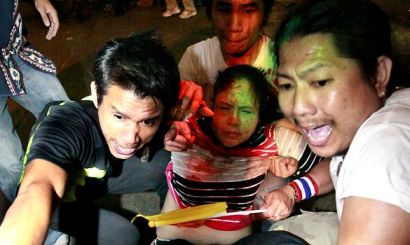 Protesters took to the streets literally paralyzing the capital today. Five suspects, including one retired soldier were arrested. The anti government protesters are reportedly from the United Front for Democracy Against Dictatorship (UDD), today they were all wearing red T-shirts.
The Thai military has asked them to abandon their camps and move away, but then there were fears that the violence that broke out two weeks and killed 25, could be on the verge of erupting again. Now warrants have been issued to arrest many red t-shirt activists.