UK Today News: Times Square Bomb Scare – Bomb Defused Inside SUV In New York City
Times Square bomb scare: The New York city police were successful in defusing a bomb from a car that was parked on Times Square – one of the busiest tourist attractions of the city.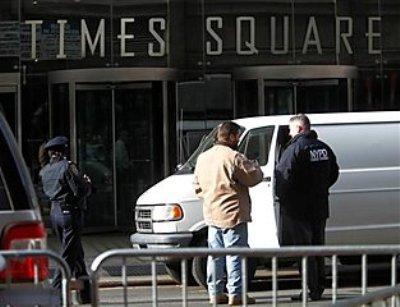 Sources say that some propane tanks, a timing device and fireworks were removed from a parked SUV . Pedestrians were requested to move and clear the area surrounding the SUV as a result of the Times square bomb scare.
US President Barack Obama and the Mayor Michael Bloomberg have said that they appreciate the swift work of the NYPD.
The bomb scare came became known when a street vendor saw smoke out a Nissan Pathfinder SUV. The NYPD has always been on high alert ever since the 9/11 terrorist attack and they immediately used a robotic arm to break open the window of the SUV as soon as it was reported.
The police say that they have no yet identified a motive behind the Times square bomb scare, but they have spotted a suspect who has been seen running, as he was caught on security tape.
Police and FBI are conducting the further investigation.