Dancing with the Stars Elimination May 4 2010 – Who Got Kicked Off Dancing With The Stars
566 Views
May 5th, 2010
Posted by Carrie
UK Today News: Dancing with the Stars Elimination May 4 2010 – Who Got Kicked Off Dancing With The Stars
Who Got Kicked Off Dancing With The Stars: The Dancing with the Stars Elimination May 4 2010 saw Baywatch bombshell Pamela Anderson leaving the show.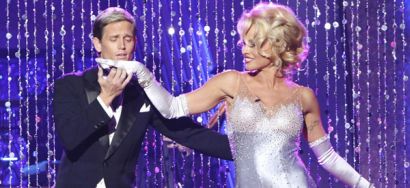 Pamela's performances on Dancing with the Stars was always something that the audience looked forward too and it was unfortunate that she was sent home on May 4.
The Dancing with the Stars Elimination on May 4 2010 was the result of the DWTS judges scores as well as votes from fans across USA.
The reason that Pamela Anderson was eliminated could be due to the fact that she had a really tough time trying to dance the Team Cha-cha-cha again due to her injury.
DWTS will now see the top 5 couples battling it out to win the competition this year. Erin Andrews, Chad Ochocinco, Niecy Nash, Evan Lysacek, Nicole Scherzinger are the remaining stars on the show and Nicole is undoubtedly the favorite on this year's Dancing with the Stars.