UK Today News: Who Got Kicked Off American Idol May 5 – Aaron Kelly Voted Off American Idol
Who Got Kicked Off American Idol May 5, Aaron Kelly: The American Idol Results for May 5 2010 was eagerly looked forward to by Idol fans all across the globe. With each week drawing closer and closer to the final, everyone can see how stiff the competition is for the Top 5 Idol contestants.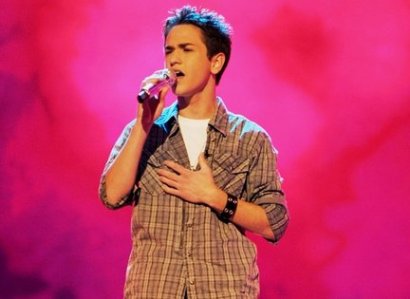 This week was Frank Sinatra week at American Idol and though this music requires an acquired taste, the contestants did give their all. Unfortunately one Idol had to be eliminated, and the Idol to get kicked off American Idol on the May 5 2010 show was Aaron Kelly.
Aaron Kelly and Big Mike were the two occupying the bottom spots, but it was the 17 year old who had to say good bye to American Idol 2010.
Aaron Kelly is from Pennsylvania and the song that got him kicked off American Idol was "Fly Me to the Moon"(Frank Sinatra). Aaron Kelly said: "I've had a great time; I've had a blast."
This leaves us with the Top 4 contestants at American Idol – Casey, Crystal, Big Mike and Lee Dewyze.
The American Idol Results Show for May 5 also had some great entertainment with Grammy winner Lady GaGa performing "Alejandro". There was also Harry Connick Jr. who performed his rendition of The Beatles "And I Love Her".