UK Today News: Stock Market Today – Dow Jones Industrial Average Plunges 1000 Points Today
Dow Jones Today, Dow Jones Industrial Average: The US stock market today had the one of it's biggest plunges ever since the one it had way back in 1987.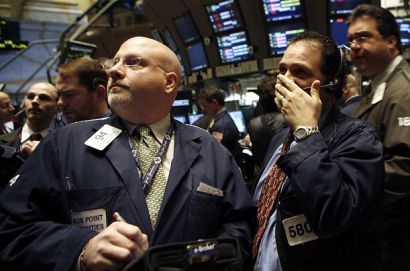 According to reports, the stock market plummeted by almost 1,000 points before it recovered to finally post a net loss of 347 points. The Dow Jones today also lost 631 points, (5.7 percent), over the past three days. This drop happens to be the largest three-day percentage drop ever since the March 2009 financial crisis.
According to USA Today, "In a roughly 15-minute span that began around 2:30 p.m. on Wall Street, the Dow, which was already down almost 300 points, suffered the bulk of its biggest-ever intraday dive, falling as much as 998.50 points, or 9.2%, to 9869.62. The violent drop was followed by a rebound nearly as steep, with the Dow finishing down 347.80 points, or 3.2%, to 10,502.32."
Everyone fears that this could be the result of the Greece crisis and investors are afraid that the need for bailouts of Greece (and other countries such as Portugal, Spain and Italy) will require rigid measures that could possibly shut down the global economic recovery.