UK Today News: BP Gulf Oil Spill 2010 Pictures From Satellite Show BP Needs to work fast on the Oil Spill

Gulf Oil Spill 2010 : The British Petroleum, who are the rightful owners of the infamous oil rig which sank just weeks back, and now is spilling huge amounts of oil into the Gulf of Mexico, are now told to speed up their work of containing the oil.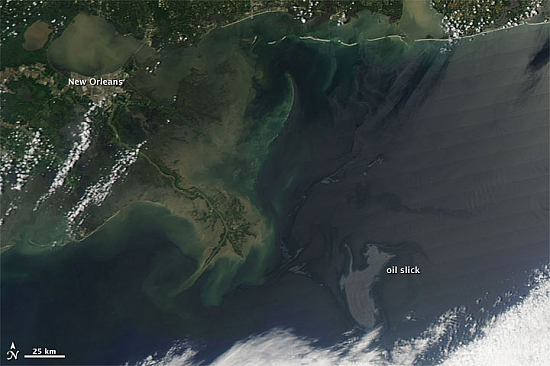 The spill is getting larger day by day and as time passes the oil is inching closer towards the Louisiana coast. It is posing direct threat to the biological marine environment there.
President Barack Obama has called in every possible action that can be taken to contain the oil flow, and as per the reports last week, there is third leakage that was found, which is spewing most of the oil into the gulf. And if this chaos continues then the oil spill disaster will surpass the worst oil leak of BP, which back in 1989 from Exxon Valdez in Alaska.
That particular oil spill was considered the worst in the history of oil disasters, as is destroyed million of dollars worth of environmental assets which included the livelihood of fishermen.
As of the reports which came in yesterday, BP has its full mind set on the iron box which his as tall as a four storied building and they hope this would contain the oil leakage as it will be placed over the sprout of the oil leak. But fingers are crossed for a possible failure of this project, as it is never been tested before at such depths of the sea.