Black Friday Sales are here again. Now that Thanks giving Day is over, we see the ques of people lining up outside stores offering products at very low and unbelievable rates.
And given the fact that we are still reeling under the after –effects of recession, Black Friday sales are definitely something people look forward to nowadays.
However, waiting in ques outside a store is not the only way you can avail of these great offers. You can do it right at home, while chilling on your couch and on your personal computer.
How?  Through Black Friday Internet Sales!!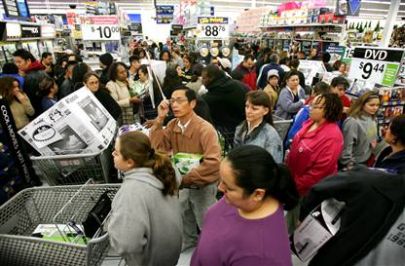 Big retailers like as Dell, Walmart, Best Buys and others have awesome bargains for people. Be it laptops, i-pods, music players, cameras, clothese or just about anything, you can get them all online – dirt cheap.
According to reports, many store's websites such as Best Buys are offering buyers some cool prices on TVs, DVDs and blu ray discs. Also Target, Kohl's, Kmart, Home Depot, Walmart and Toys R US are offering online bargains for the online shopper.
Good ol' Walmart also has some great Black Friday deals. Even , Apple is offering discount on computers, MacBook Pro, iMAC & ipods.
Here are some great offers that we found out for you!!
Walmart is offering:
• Emerson 32″ LCD 720p HDTV (LC320EMFX) – $248
• Emerson 42″ Plasma 720p HDTV (PC-P42W-10A) – $448.00
• eMachines 15.6″ Laptop- 2GB RAM, 160GB HDD (eME627) – $192
• TomTom One 125-SE GPS – $59.00
• Best Buy.com offers Dynext 32-inch 720p LCD HDTV, $299.99; Samsung ToC 46-inch 1080p LED HDTV, $1,599.99; Garmin GPS, $99.99; DVDs beginning at $3.99; Blu-Ray discs starting from $7.99.
• Kohl's offers up to 60 percent off entire stock Apt. 9 sportswear; half off Fisher-Price, Playskool, Barbie, Littlest Pet Shop, Hot Wheels, Matchbox, Tonka, Little Tikes, Crayola and Play-Doh toys.
• Kmart offers Sony 32-inch 720p LCD HDTV $379.99; 19.2-volt Craftsman Drill with one-hour charger, $39.99; buy two, get one free Legos; girls' dresses, $7.99.
• Target stores have come up with Nokia CoolPix S203 digital camera for $88; Westinghouse 32-inch 720p LCD HDTV, $246; Apple 8GB iPod nano, $145; down comforters, 50 percent off. Until noon, guests who spend $100 or more will receive a $10 Target gift card.
If you come across an other good deals, please feel free to share by adding a comment here.
Happy Shopping!