UK Today News: Iceland Volcanic Ash Delays Trans-Atlantic flights – Fresh Ash Leads to Flight Cancellations
Iceland Volcanic Ash Update: With almost months having passed by, the Icelandic volcano doesn't seem to have any plans of stopping anytime soon.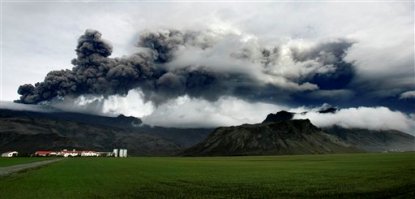 On Saturday, the Iceland volcano Eyjafjallajokul showed the world that it still had the power to disturb international flights. Many flights towards Europe and North America were delayed or cancelled on Monday due to the fresh volcanic ash cloud from the island. Chances of having proper flights from Sunday remained grim as there were no improvements in the sky.
All flights had to be rerouted either north from over Greenland or south from the north of Spain, in order to avoid the 1200 mile long ash cloud.
According to reports, there were 19 airports closed in Spain, including Barcelona. On any normal day, the European Air authorities handle around 26000 to 30000 flights everyday.
According to AP: "Eurocontrol's forecast chart of volcanic activity for early Sunday showed a solid line of cloud extending from Greenland to the Azores and Madeira Islands in the mid-Atlantic, at altitudes up to 35,000 feet — right in the path of most trans-Atlantic flights. The Brussels-based air traffic management agency said the area of potential ash contamination was expanding in particular between the ground and 20,000 feet."