UK Today News : "Whiz Kid" Robin Roberts Dies aged 83

Hall of Fame pitcher, nicknames as the "Whiz Kid," died at the age of 83 at his Florida home on the 6th of May.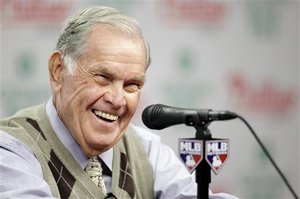 Robin Robert led the Philadelphia Phillies to Win the National League pennant in the year 1950 by pitching a 10-inning victory against the Brooklyn Dodgers. This was Philadelphia's first pennant in about 35 years.
According to the Press this was just the start of Robin Roberts great performances. He maintained the best record in the history of baseball from year 1951 to 1955 with a fastest of 100mph. He also singlehanded won them 28 games in a row.
He went on to work at a brokerage firm after his retirement from baseball, but the love of the game brought him back to coach the baseball team at the University of South Florida.
The cause of Robin Roberts death is still not disclosed.