UK Today News: Governor Of Oklahoma To Tour The Damage Of The State

Governor Brad Henry will be doing an aerial tour of his state; just a day after the deadly tornado had ripped through leaving 5 people dead. His spokesperson stated that the governor would be speaking to the Homeland Security for the relief efforts.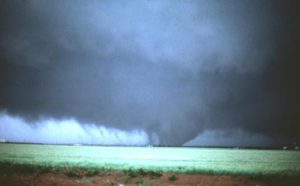 It was Monday when bad weather continued through the state creating tornados and some even touched down. The force of the tornadoes was so sever that they cars and destroyed almost 40 homes which were in its path.
A section of interstate 40 was closed down for a brief moment, when the tornado came in and went through a truck stop literally tossing trailers and bending metal beams that were supporting the roof of the fuel station.
Among the dead three people belonged from the Oklahoma County and two from the Cleveland County. Officials also reported that there are 58 people who are injured all throughout the state.
In the Cleveland County the winds were around 103 miles per hour, where the tornado touched down some 4 miles southeast of Norman, later crossing the interstate.
The houses were damaged, roofs were ripped open and vehicles were tossed around in the aligning areas. The Storm Prediction Center reported that the storm had a perfect combination of winds, moisture and heat to create such a dangerous situation. The officials had warned the Oklahoma residents of the tornado danger.